Iridium 9555 Satellite Phone
A cost-effective Iridium satellite phone, offering truly global coverage – anywhere on the planet.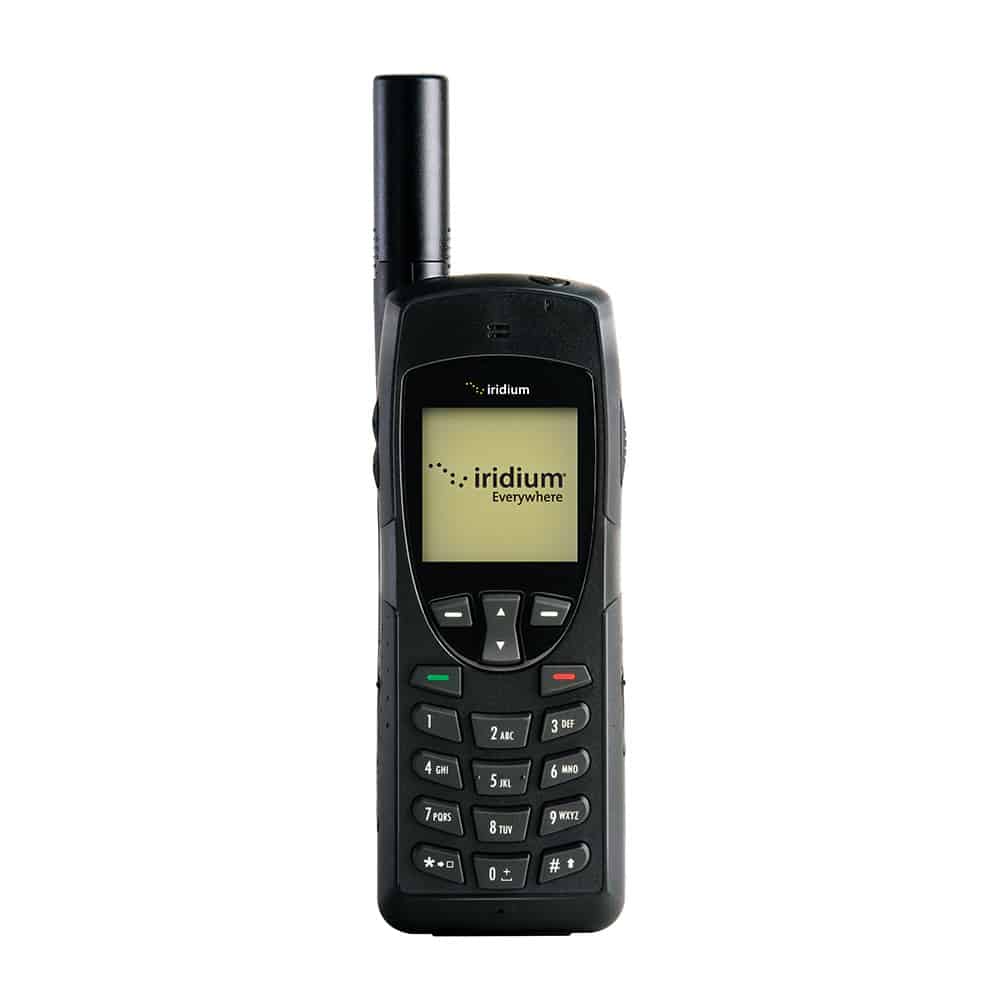 Iridium 9555 Satellite Phone
Whether traveling by land, sea, or air, the cost-effective Iridium 9555 satellite phone is the perfect companion to stay connected anywhere on the globe. Enhanced voice communication, two-way SMS, and short e-mail capability make the Iridium 9555 global satellite phone powerful and convenient.
Details

Blue Sky Network offers this mobile satellite phone in a variety of aeronautical and marine kits or as a stand-alone handheld phone. Small, compact, and ergonomic, the Iridium 9555 offers an easy-to-use interface featuring a 200-character illuminated graphic display.  This phone is resistant to water, dust, and shock and includes innovative features such as an integrated speakerphone, improved SMS and e-mail messaging capabilities, and an upgraded Mini-USB data port. The Iridium 9555 satellite phone is always connected and backed by unmatched network quality and world-class technical support, anywhere on the planet.
Features

Iridium satellite network connectivity
Lightweight and ergonomically comfortable to hold
Compact for streamlined portability
Intuitive user interface for out-of-the-box functionality
Headset and hands-free capability
Mini-USB data port
Integrated speakerphone
Two-way SMS and short e-mail capability
Selectable ring and alert tones (8 choices)
Quick position button
100-entry internal address book, with capacity for multiple phone numbers, e-mail addresses, and notes
SIM-based address book with 155-entry capacity
Call history retains received, missed, and dialed calls
User-configurable call timers to manage costs
Water, shock, and dust resistance for unparalleled durability
Pre-programmable international access code (00 or )
1-year warranty
Technical Specifications

Dimensions: 143mm (L) x 55mm (W) x 30mm (D)
Volume: Under 375cc (22.9 ci)
Weight: 266g (9.4 oz)
Battery continuous talk time: Up to 4 hours
Standby time: Up to 30 hours
Temperature, normal conditions: 15°C to 35°C
Temperature, extreme conditions: -10°C to 55°C
Air pressure: 86 to 106 kPa
Storage temperature range: -40°C to 85°C
Documentation
Blue Sky Network is ready to help ensure you are able to connect reliably and with confidence. Have questions about how our solutions can help meet your connectivity needs? Contact us today
Purpose built for these key industries
We offer reliable, custom-design solutions powered by the world's most advanced network to solve any connectivity challenge across land, sea, and air.
Agriculture

Easily monitor autonomous farming equipment and vehicles in the field for increased yields and lower operational costs.

Forestry

Global connectivity and communication solutions that enhance production for responsible and sustainable forestry outcomes.

Fishing & Workboat

Advanced connectivity for optimal fishing production & increased safety at sea

Merchant Shipping

Enable real-time vessel tracking, enhanced crew and cargo safety, and heightened productivity, from port to final destination.

Exploration & Research

Seamless connectivity that facilitates rapid data transfer, crew safety in the field, and optimal exploration and research outcomes.

Global Government

Enabling strategic decision-making, secure tactical correspondence, and operational efficiency across government and military missions.

Humanitarian & Aid

Communicate with personnel delivering essential supplies in high-conflict zones, monitor assets and response teams, and determine more strategic resource distribution.

US Government

For operational efficiency, enhanced asset safety, and real-time situational awareness for U.S. government and military success.

Blue Sky Network's Iridium 9555 docking station provides customers in buildings, vehicles, and vessels with...
Learn More
The Blue Sky Network Advantage

Unprecedented Global Coverage
World-class solutions powered by Iridium's cutting-edge satellite infrastructure deliver seamless connectivity and total asset visibility, no matter how far off the beaten path your operations take you.

Global, solutions-driven team leveraging deep industry expertise to engineer advanced solutions trusted by governments, NGOs, and blue chip companies to connect, track, and secure their most valuable assets.

Intuitive, all-in-one solutions
Small form factor hardware and innovative cloud-based software are custom-designed and packaged to offer real-time communications and insightful analytics for your precise operational, device, network, and app needs.